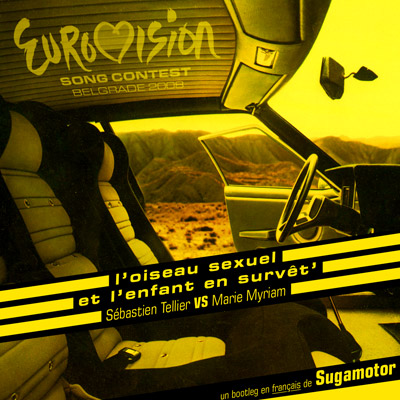 Sébastien Tellier
"Sexual sportswear"
VS
Marie Myriam
"L'oiseau et l'enfant"
L'oiseau sexuel et l'enfant en survet'

Pourquoi cette pochette ? quelques indices :
Sébastien Tellier et Marie Myriam sont français. Marie Myriam a gagné l'Eurovision en 1976. Et la voiture représentée a une petite particularité...

This track mashes together France's last winner of the Eurovision song contest, with our latest contender (and probably our biggest failure!!). The car pictured on the cover was launched the same year as Marie Myriam's historical victory and can be identified by the unusual number of seats. In the corner you can read "a bootleg in
french
" in reference to the wild debate that took place here when it was announced that France would be competing with an english song (sung by a french guy but these patriots didn't care, it had to be IN FRENCH).