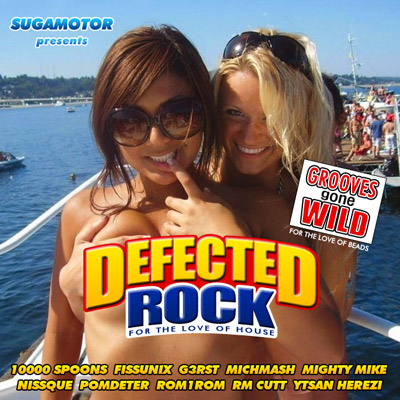 House grooves on rock ?
Deevas on electric guitars ?
Preachers on heavy drums ?
It's an heresy and yet it works !

(from SendSpace)

(from MegaUpload)

(from MediaFire)
SAMPLE TRACKS...
Fissunix "Divide 'em down"
Sugamotor "Push away the bad habit"
G3RSt "Can't go with the flow"
Thanks to all the bootleggers who took part in this international madness :
10000 Spoons
,
Fissunix
,
G3RSt
,
Michmash
,
Mighty Mike
,
Nissque
,
RoM1RoM
,
pomDeter
,
RM C.U.T.T.
and Ytsan Herezi.
This mashup album features tracks by Metallica, Karizma ft. DJ Spen, Powers That Be, Roland Clarke, Linkin' Park, Todd Terry, Wahoo, Snow Patrol, Roger Sanchez ft. Ndea Davenport, The Automatic, Soul Rebels, Guns N Roses, Louie Vega & Jay Sinister Sealee ft. Julie McKnight, Soulsearcher, Queens Of The Stone Age, Blink 182, Julie McKnight, Pat Benatar, Jewel, Les Wampas, Jug, ATFC ft. Onephatdeeva, Bon Jovi, Il Padrinos ft. Jocelyn Brown, The Hives, Warren Clarke, The Kills, Blaze ft. Barbara Tucker, Kiss, Una Mas, AC/DC, Bingo Players vs Chocolate Puma, The Raconteurs, ATFC ft. Onephatdeeva, Oasis and Jay J ft. Latrice Barnett.