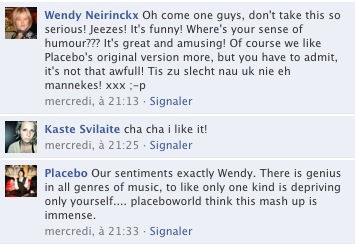 I was wondering why one of my videos on Youtube had got more than 4000 views over the last few days, and then I saw this on Placebo's Facebook page, along with hundreds of love or hate comments and a thousand "likes"...

Here's the object of the flamewar :-)
Bitter boy

Placebo is obviously much more open-minded than
some
of their fans, and I'm most humbled by this comment. I make mashups to surprise people, and even sometimes to make them laugh ! If the band likes the result, it's just the icing on the cake.
Upset Placebo fans, you'd better stop bashing me (or Rihanna) because you're getting me EXCITEEEED !! So excited that I've got a little surprise for you, coming in the next few days.
Without Rihanna...